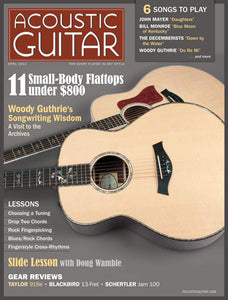 No. 244, April 2013
DOUG WAMBLE
Doug Wamble couples slide guitar and D A D G A D tuning for a very personal sound influenced by jazz, blues, and R&B. By Adam Levy.
HOW TO MAKE UP A BALLADSONG AND GET AWAY WITH IT
Songwriting lessons from Woody Guthrie. By Jeffrey Pepper Rodgers.
SMALL PACKAGES
A look at the inexpensive small-body market, with reviews of 11 steel-string flattops between $350 and $800. By Teja Gerken.
ACOUSTIC CLASSIC
Blue Moon of Kentucky. Words and music by Bill Monroe.
Down by the Water. Words and music by Colin Meloy of the Decemberists.
PRIVATE LESSON
Choosing a Tuning. Fingerstyle guitarist Chris Proctor talks about his approach to arranging songs and how he chooses and explores different alternate tunings. By Andrew DuBrock.
NEW GEAR
Taylor 918e Review. Taylor's powerful new grand orchestra model has a complex voice and upscale appointments. By Teja Gerken.
Blackbird Lucky 13 Review. 13-fret small-body combines vintage blues-box specs and modern carbon-fiber construction. By Doug Young.
Schertler Jam 100 Review. A powerful yet compact acoustic amp with four flexible channels. By James Nash.
PLAYER SPOTLIGHT
Field Report. Singer-songwriter Chris Porterfield's restless evolution. By Kenny Berkowitz.
SONGCRAFT
Blues/Rock Changes. How to use chords like the flatted VII and flatted III in your songs. By Jeffrey Pepper Rodgers.
THE BASICS
Rock Fingerpicking Patterns. Learn different fingerstyle approaches used by the Beatles, Cat Stevens, Eric Clapton, and more. By Andrew DuBrock.
SHOPTALK
Bruce Sexauer Guitars. Northern California luthier fuses traditional and contemporary designs. By Teja Gerken.
PLAYLIST
Mary Gauthier, Live at Blue Rock. By Derk Richardson.
Jody Stecher, Wonders and Signs. By Phil Catalfo.
Marcy Marxer, Things Are Coming My Way. By David McCarty.
WEEKLY WORKOUT
Drop Two Chord Arpeggios. Strengthen your picking and fretting hands with these popular four-note chord voicings. By Sean McGowan.
WOODSHED
Fingerstyle Cross-Rhythms. Play in two meters at the same time for a multidimensional effect. By Alex de Grassi.
SONGBOOK
Daughters. Words and music by John Mayer.
GREAT ACOUSTICS
1984 David Matlin. By Adam Perlmutter.
---
We Also Recommend
---