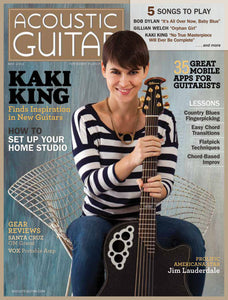 No. 245, May 2013
RETURN OF THE KING
Fingerstylist Kaki King steps up her game on the dazzling Glow. By Jeffrey Pepper Rodgers.
STAY AT HOME
How to set up your home studio to get the most out of your equipment and recording space. By Doug Young.
GUITAR ON THE GO
Use your iPad, iPhone, or iPod Touch to get in tune, record, learn songs, read music, and organize your musical life. By Gino Robair.
ACOUSTIC CLASSIC
It's All Over Now, Baby Blue. Bob Dylan.
PRIVATE LESSON
Country Blues Fingerpicking. John Miller on blues pioneers Buddy Moss, Blind Boy Fuller, and Mississippi John Hurt. By Orville Johnson.
NEW GEAR
Santa Cruz OM Grand. A powerful flattop that uses an enlarged OM design as a foundation for rich, vintage-inspired sound. By Doug Young.
Vox AGA30. A portable acoustic amp with a built-in tube preamp. By Adam Perlmutter.
IN THE STORES
PLAYER SPOTLIGHT
Jim Lauderdale. The prolific songwriter on battling deadline terror and working with Robert Hunter and Buddy Miller. By Kenny Berkowitz.
SONGCRAFT
Songwriting Games. Use word games and experiment with new musical and lyrical styles to generate ideas and songs. By Jeffrey Pepper Rodgers.
THE BASICS
Smooth Transitions. Learn how to change chords without unwanted string noise while keeping a steady beat. By Josh Workman.
PLAYLIST
Otis Taylor, My World Is Gone. By Kenny Berkowitz.
Dawn McCarthy and Bonnie "Prince" Billy, What the Brothers Sang. By Mark Smith.
Samantha Crain, Kid Face. By Kenny Berkowitz.
The Milk Carton Kids, The Ash and Clay. By Derk Richardson.
Ron Sexsmith, Forever Endeavour. By Kenny Berkowitz.
WEEKLY WORKOUT
Perfect Your Pick Technique. Exercises to help you control your pick. By Scott Nygaard.
WOODSHED
Chord-Shape-Based Improvisation. How to turn familiar chord shapes into exciting improvised lines in the style of Joe Pass and others. By Sean McGowan.
SONGBOOK
Orphan Girl. Gillian Welch.
GREAT ACOUSTICS
Andrew White Seven-String. By Jeffrey Pepper Rodgers.
---
We Also Recommend
---