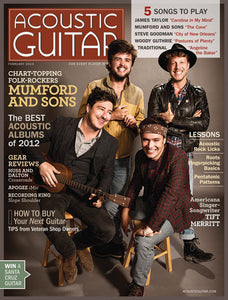 No. 242, February 2013
Your Next Guitar
We talk to Acoustic Guitar readers and veteran shop owners for advice on buying a new guitar. By Jeffrey Pepper Rodgers.

Essential Albums of 2012
Acoustic Guitar's editors and contributors choose the best acoustic albums of the year. By Mark Smith.

Mumford and Sons
On Babel, British folk-rockers Mumford and Sons keep their focus on what's important: the song. By Kenny Berkowitz.

ACOUSTIC CLASSIC
City of New Orleans. Music and words by Steve Goodman. By Andrew DuBrock.
Pastures of Plenty. Music and lyrics by Woody Guthrie. By Andrew DuBrock.
The Cave. Mumford and Sons. By Andrew DuBrock.

GREAT ACOUSTICS
Fylde Custom Guitar with Mandolin. By Adam Perlmutter.

IN THE STORES
Takamine P1DC, Taylor 414 Fall Limited, DigiTech JamMan Solo XT, and a review of the Line 6 StageSource L3t PA. By Teja Gerken.

NEW GEAR 1
Huss and Dalton Crossroads Review. Acoustic Guitar reviews a vintage-style blues guitar with contemporary touches. By Orville Johnson.

NEW GEAR 2
Recording King RAJ-126 Review. Acoustic Guitar reviews an affordable slope-shoulder dreadnought with vintage tone. By Adam Perlmutter.

NEW GEAR 3
Apogee MiC. A great-sounding USB mic that works with Mac computers and iOS devices. By Doug Young.

PLAYER SPOTLIGHT
Tift Merritt. The singer-songwriter on her love of vintage Gibsons and playing with guitarist Marc Ribot on Traveling Alone. By Derk Richardson.

PRIVATE LESSON
Acoustic Rock Guitar. Janet Robin on how she integrates hard rock techniques learned from Randy Rhoads into her acoustic playing with Lindsey Buckingham and her own songs. By Adam Perlmutter.

SHOPTALK
John Walker Guitars Profile. Montana luthier draws his inspirations from vintage Gibsons. By Teja Gerken.

SONGBOOK
Angeline the Baker. Traditional, arranged by Scott Nygaard. By Scott Nygaard.
Carolina In My Mind. Music and lyrics by James Taylor. By Andrew DuBrock.

THE BASICS
Roots Fingerpicking in Acoustic Rock. Learn how rock stars like Jorma Kaukonen and Steve Howe used roots fingerpicking to create memorable solo instrumentals. By Andrew DuBrock.

WEEKLY WORKOUT
Pentatonic Patterns. Create new pentatonic melodic lines by looking at the five-note scale in a different way. By Scott Nygaard.

---
We Also Recommend
---