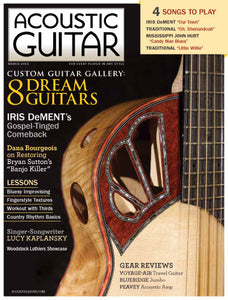 No. 243, March 2013
IRIS DEMENT
The beloved singer-songwriter returns with her first album of new material in 16 years. By Jeffrey Pepper Rodgers.
PLAY IT AGAIN!
How Bryan Sutton's legendary "Banjo Killer" dreadnought was restored after being damaged by the Nashville flood of 2010. By Dana Bourgeois.
CUSTOM GUITAR GALLERY
Individually crafted custom guitars from eight luthiers. By Teja Gerken.
ACOUSTIC CLASSIC
Oh, Shenandoah Traditional, arranged by Andrew DuBrock
PRIVATE LESSON
Contemporary Fingerstyle Textures: Antonio Calogero on using techniques like two-hand tapping and artificial harmonics in his compositions. By Doug Young.
NEW GEAR
Blueridge BG-2500 Review: A jumbo flattop with a bold sound and art deco-inspired looks. By Adam Levy.
Voyage-Air VAD-04SN Review: A full-size dreadnought with a folding neck for easy storage and travel. By Jeffrey Pepper Rodgers.
Peavey Ecoustic 110 Review: Affordable acoustic amp offers solid tone, extensive effects, and a built-in looper. By Adam Perlmutter.
PLAYER SPOTLIGHT
Lucy Kaplansky: The singer-songwriter makes her family the central focus of her latest album, Reunion. By Mike Thomas.
THE BASICS
Carter-Style Fundamentals: Learn the country bass and strum pattern pioneered by Maybelle Carter. By David Surette.
SHOPTALK
Headstock Nation: A report from the Woodstock Invitational Luthiers Showcase. By Steve James.
PLAYLIST
Adam Traum, Just Like Home. By Phil Catalfo.
Alasdair Roberts, Wonder Working Stone. By Mark Smith.
Carrie Rodriguez, Give Me All You Got. By Kenny Berkowitz.
The Steeldrivers, Hammer Down. By Phil Catalfo.
WEEKLY WORKOUT
Patterns in Thirds: Break up your scale practice with third-based patterns. By Sean McGowan. 
WOODSHED
Bluesy Improvising on a Melody: Learn to create rhythmic and melodic variations by using bluesy bends and slurs and combining licks and melodies. By Orville Johnson
SONGBOOK
Candy Man Blues: Traditional, arranged by Mississippi John Hurt.
SONGBOOK
Little Willie: Traditional, arranged by Jody Stecher.
GREAT ACOUSTICS
1931 Francisco Simplicio. By Aaron Greene.
---
We Also Recommend
---