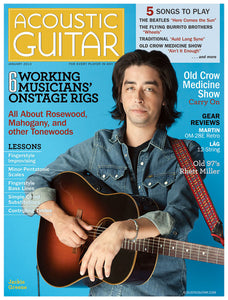 No. 241, January 2013
Back and Sides Woods
How the choice of rosewood, mahogany, maple, koa, and other hardwoods may affect the tone of your guitar. By Richard Johnston.

Real-World Rigs
Nina Gerber, Jackie Greene, Laurence Juber, and other performing guitarists explain their amplification setups. By Teja Gerken.

Old Crow Medicine Show
OCMS returns with a vibrant new album, Carry Me Back. By Kenny Berkowitz.

ACOUSTIC CLASSIC
Wheels. Music and lyrics by Chris Hillman and Gram Parsons. By Andrew DuBrock.

GREAT ACOUSTICS
Fred Carlson Taproot. By Teja Gerken.

NEW GEAR 1
Martin OM-28E Retro. Acoustic Guitar reviews a vintage-style OM that's ready for the stage. By Doug Young.

NEW GEAR 2
LAG T400J12CE. Acoustic Guitar reviews a stylish cutaway 12-string with onboard electronics. By Adam Perlmutter.

PLAYER SPOTLIGHT
Rhett Miller. The Old 97's front man talks about acoustic guitars and his latest album, The Dreamer. By Derk Richardson.

PLAYLIST
Darrell Scott and Tim O'Brien, We're Usually a lot Better Than This. By Phil Catalfo.
Jim Byrnes, I Hear the Wind in the Wires. By Derk Richardson.
Kathy Mattea, Calling Me Home. By Kenny Berkowitz.
Steve Forbert, Over with You. By Mike Thomas.
The Giving Tree Band, Vacilador. By Céline Keating.

PRIVATE LESSON
Fingerstyle Improvisation. Australian guitarist Adam Miller talks about improvising over a bass line while keeping a solid groove. By Teja Gerken.

SONG CRAFT
Simple Substitutions. How to create alternate chord progressions for your songs by using chord substitutions. By Jeffrey Pepper Rodgers.

SONGBOOK
Auld Lang Syne. Traditional, arranged by Sean McGowan. By Sean McGowan.
Here Comes the Sun. Music and lyrics by George Harrison. By Andrew DuBrock.

THE BASICS
Expand Your Minor-Pentatonic Solos. Learn to play and navigate every minor-pentatonic scale position all over the neck. By Andrew DuBrock.

WEEKLY WORKOUT
Chord Scales. Learn the function of the individual notes in scales by matching them to the chords in your favorite songs. By Scott Nygaard.

WOODSHED
Control Your Fingerstyle Timbre. Change the tone color of your melodies to help separate voices and create expressive sounds. By Alex De Grassi.
Fingerstyle Bass Lines. How and when to use walking and alternating bass lines, pedal tones, and bass riffs in your compositions and arrangements. By Teja Gerken.

---
We Also Recommend
---