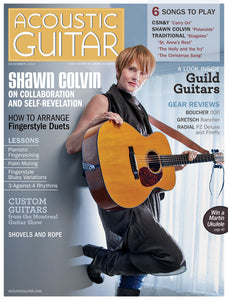 No. 240, December 2012
Fingerstyle Guitar Duets
How to use different accompaniment patterns, harmonies, counterpoint, and textures to create more exciting duo arrangements.  By Doug Young.

Shawn Colvin
The singer-songwriter on her new memoir, creating compelling guitar parts, and collaborating with Buddy Miller, Jakob Dylan, and more on her new album.  By Jeffrey Pepper Rodgers.

A Visit to Guild
How Guild's iconic flattop guitars are built in the company's Connecticut factory.  By Teja Gerken.

DEPARTMENTS
PLAYLIST
Butch Thompson and Pat Donohue, Vicksburg Blues. By Bill Wagner.
I Draw Slow, Redhills. By Michael Lohr.

ACOUSTIC CLASSIC
Carry On. Words and music by Stephen Stills. By Andrew DuBrock.

PRIVATE LESSON
Pianistic Fingerpicking. Matt Munisteri on adapting the brilliant style of jazz-era pianist/songwriter Willard Robison for acoustic guitar. By Adam Levy.

NEW GEAR 1
Boucher Studio Indian Goose 000-12FTB Review. Acoustic Guitar reviews a Canadian-made 12-fret 000 with an Adirondack spruce top. With video. By Jeffrey Pepper Rodgers.

NEW GEAR 2
Gretsch G5013CE Rancher Jr. Review. Acoustic Guitar reviews an affordable acoustic-electric flattop with a classic vibe. With video. By Adam Perlmutter.

NEW GEAR 3
Radial PZ Deluxe and Firefly Review. Acoustic Guitar reviews two new acoustic preamps from premier maker of DI boxes. With video. By Doug Young.

IN THE STORES
In the Stores. Washburn's WCG25SCE acoustic-electric, Kala's JTE/2TS archtop tenor ukulele, Planet Waves's NS Tri-Action capo, and a review of the Deering Phoenix six-string banjo. By Teja Gerken.

NEW GEAR 3
Deering Phoenix Six-String Banjo. By Teja Gerken.

PLAYER SPOTLIGHT
Shovels and Rope. The dark acoustic country stomp of Cary Ann Hearst and Michael Trent. By Kenny Berkowitz.

THE BASICS
Fingerstyle Blues Variations. Use C-A-G-E-D chord shapes to find fingerstyle blues patterns up the neck. By Pete Madsen.

SHOPTALK
Montreal Guitar Show 2012. Acoustic Guitar reports from the Northeast's premier guitar show. By Teja Gerken.

PLAYLIST
Robin and Linda Williams, These Old Dark Hills. By Mike Thomas.
The Flatlanders, The Odessa Tapes. By Kenny Berkowitz.
Zoe Muth and the Lost High Rollers, Old Gold. By Kenny Berkowitz.
Al Petteway, It's Only the Blues. By Céline Keating.
Steve Spurgin, Folk Remedies. By Phil Catalfo.
Malcom Holcombe, Down the River. By Mike Thomas.

WEEKLY WORKOUT
Three-Against-Four Rhythms. Use the ubiquitous polyrhythms in your fingerboard explorations. By Scott Nygaard.

WOODSHED
Palm Muting Lesson. How to play pizzicato by damping the strings with your picking hand. By Alex De Grassi.

SONGBOOK
The Holly and the Ivy. Traditional, arranged by Sean McGowan. By Sean McGowan.
The Christmas Song. Music and lyrics by Mel Torme and Robert Wells, arranged by David Wilcox. By Adam Levy.

GREAT ACOUSTICS
1961 Guild M-20. By Derek See.
---
We Also Recommend
---