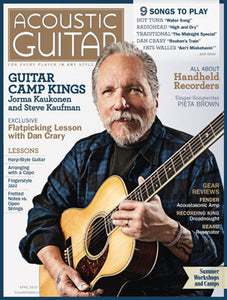 No. 232, April 2012
All About Portable Recorders
How to find the right digital recorder to suit your needs. By Gino Robair.

Dan Crary Lesson
The bluegrass lead guitar pioneer on arranging fiddle tunes and solo flatpicking. By Scott Nygaard.

Jorma Kaukonen and Steve Kaufman
By David McCarty.

DEPARTMENTS

ACOUSTIC CLASSIC
High and Dry. Words and music by Thom Yorke, Jonathan Greenwood, Colin Greenwood, Edward O'Brien, and Philip Selway. By Dan Apczynski.
The Midnight Special. Learn an arrangement of a blues classic popularized by the Louvin Brothers, Leadbelly, and Creedence Clearwater Revival. By Dan Apczynski.

GREAT ACOUSTICS
1965 Martin D-28. By Derek See.

IN THE STORES
In the Stores.

NEW GEAR 1
Beard Odyssey A Review. Acoustic Guitar reviews a round-neck resonator that combines modern vibe with classic dobro tone. By Adam Levy.

NEW GEAR 2
Recording King RD-316 Review. Acoustic Guitar reviews an affordable vintage-style dreadnought. By Jason Borisoff.

NEW GEAR 3
Fender Acoustasonic 150 Review. Powerful acoustic amp with complex sound-shaping options. By Adam Perlmutter.

PLAYER SPOTLIGHT
Pieta Brown. On her third solo album, the singer-songwriter turned to a collection of new and vintage guitars to capture her atmospheric songs. By Jeffrey Pepper Rodgers.

PLAYLIST
Fionn Regan, 100 Acres of Sycamore. By Derk Richardson.
Jacques Stotzem, Lonely Road. By Julia Crowe.
Martin Sexton, Fall Like Rain. By Phil Catalfo.
Otis Taylor, Contraband. By Kenny Berkowitz.
Rodrigo y Gabriela, Area 52. By Julia Crowe.

PRIVATE LESSON
Harp-Style Guitar Lesson. Robin Bullock on playing Celtic and classical tunes with a technique that imitates the sound of the harp. By Doug Young.

SHOPTALK
Running Dog Guitars Profile. Luthier Rick Davis builds traditional-sounding steel-strings with contemporary touches. By Tom Lell.

SONGBOOK
Ain't Misbehavin'. Music by Thomas "Fats" Waller and Harry Brooks, arranged by Rick Ruskin. By Rick Ruskin.
The Water Song. Music by Jorma Kaukonen. By Andrew DuBrock.

THE BASICS
Arranging with a Capo. Use a capo to get new sounds from chord progressions without changing a song's original key. By Jeffrey Pepper Rodgers.

WOODSHED
Fingerstyle Jazz Articulation Lesson. Learn how to play and balance multiple voices in your fingerstyle jazz arrangements. By Sean McGowan.
Open Strings vs. Fretted Notes. Define melodies, harmonies, and countermelodies by deciding where to play notes on the guitar neck. By Alex De Grassi.
---
We Also Recommend
---