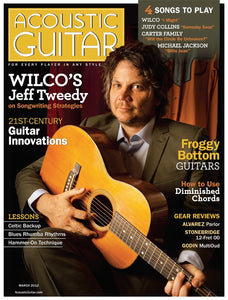 No. 231, March 2012
Jeff Tweedy
The Wilco front man on fingerpicking, dynamics, and the intense craft behind his songwriting.  By Jeffrey Pepper Rodgers.

Froggy Bottom Guitars
Luthier Michael Millard builds high-end flattops in his Vermont shop.  By Adam Perlmutter.

Innovative Guitar Designs
How innovations such as bevels, double tops, and soundports have contributed to the evolution of the contemporary guitar.  By Teja Gerken.

ACOUSTIC CLASSIC
Someday Soon. Words and music by Ian Tyson. By Andrew DuBrock.
Will the Circle Be Unbroken. Words and music by A.P. Carter. By Dan Apczynski.

PRIVATE LESSON
Celtic Backup Lesson. Jordan McConnell of the Duhks on accompanying Celtic tunes in D A D G A D tuning. By Doug Young.

NEW GEAR 1
Stonebridge OOM33SR Review. Acoustic Guitar reviews a 12-fret flattop made in the Czech Republic. By Doug Young.

NEW GEAR 2
Alvarez AP70 Review. Acoustic Guitar reviews an affordable spruce and rosewood parlor guitar with a solid top. By Danny Carnahan.

NEW GEAR 3
Godin MultiOud Review. Acoustic Guitar checks out Godin's take on the Middle Eastern 11-string oud. By Teja Gerken.

PLAYER SPOTLIGHT
Tom Russell. On Mesabi, the singer-songwriter pairs songs about fallen idols and drug violence across the border with a rich, cinematic mix of Tex-Mex guitar and exotic instrumentation. By Celine Keating.

HERE'S HOW
Diminished Chords. Learn how artists like James Taylor and the Beatles have used diminished chords in their songs. By Adam Levy.

THE BASICS
Blues Rhumba and Ballad Rhythms. Learn two great non-shuffle rhythms commonly associated with the blues. By Orville Johnson.

SHOPTALK
Binding and Purfling. All about the wood, plastic, or abalone that protects and beautifies your guitar. By Charlie Hoffman.

PLAYLIST
Anthony Wilson, Seasons. By Mark Small.
Darrell Scott, Long Ride Home. By Derk Richardson.
Kathleen Edwards, Voyageur. By Kenny Berkowitz.
Various artists, Everybody's Pickin' On Leiber and Stoller. By Julia Crowe.

WOODSHED
Hammer-On Technique. Create fluidity and varied texture with this essential legato technique. By Alex De Grassi.

SONGBOOK
Billie Jean. Written and composed by Michael Jackson, arranged by Gareth Pearson. By Dan Apczynski.

GREAT ACOUSTICS
2006 Buck Curran Butterfly. By Teja Gerken.

---
We Also Recommend
---