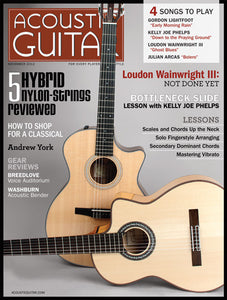 No. 239, November 2012
Kelly Joe Phelps Slide Lesson
The fingerstyle guitarist and singer-songwriter demonstrates some of the slide guitar techniques that have reinvigorated his playing. By Orville Johnson.

Loudon Wainwright III
On Older Than My Old Man Now, the singer-songwriter casts an unflinching eye toward his own mortality. By Derk Richardson.

Five Hybrid Nylon-Strings Reviewed
Acoustic Guitar reviews five acoustic-electric classical guitars with narrow necks from Alhambra, Córdoba, Hill, Martin, and Taylor. By Doug Young.

DEPARTMENTS

ACOUSTIC CLASSIC
Early Morning Rain. Music and lyrics by Gordon Lightfoot. By Andrew DuBrock.


PRIVATE LESSON
Solo Guitar Arranging Lesson. English fingerstyle guitarist Clive Carroll on combining chords, bass lines, percussion, and melody to emulate a full band. By Doug Young.
 
NEW GEAR 1
Breedlove Voice Auditorium Review. Acoustic Guitar reviews a rich-sounding mid-size guitar with custom L.R. Baggs electronics. With video. By Adam Perlmutter.

NEW GEAR 2
Washburn WDFLB26SCE Forrest Lee Bender Review. Acoustic Guitar reviews a string bender-equipped flattop designed for playing pedal-steel licks. With video. By Teja Gerken.


IN THE STORES
In the Stores.
 
PLAYER SPOTLIGHT
Andrew York. The former LAGQ guitarist on his new double album, Yamour. By Mark Small.


SONG CRAFT
Rewriting Other Songs. How to change the chords, feel, tonality, and time signature of an existing song to find ideas for a new song of your own. By Jeffrey Pepper Rodgers.


HERE'S HOW
Classical Shopper. How to choose and shop for a classical guitar. By Teja Gerken.


THE BASICS
Secondary Dominant Chords. Borrow chords from other keys to create interesting and exciting chord progressions. By Andrew DuBrock.


SHOPTALK
Classical Ten-String Guitars. All about the ten-string classical guitar and its variants.


PLAYLIST
Foggy Mountain Special: A Bluegrass Tribute to Earl Scruggs. By Kenny Berkowitz.
Aimee Mann, Charmer. By Derk Richardson.
Don Williams, And So It Goes. By Kenny Berkowitz.
Jennie Stearns, Blurry Edges. By Kenny Berkowitz.
Jerry Douglas, Traveler. By Jeffrey Pepper Rodgers.


WEEKLY WORKOUT
Move It On Up. Learn scales, intervals and chords that move up the fingerboard as well as across. By Scott Nygaard.


WOODSHED
Vibrato. Learn how to articulate a melody with linear and lateral vibrato techniques. By Alex De Grassi.


SONGBOOK
Bolero. Music by Julian Arcas. By Patrick Francis.


GREAT ACOUSTICS
1994 Favino Jazz Nylon. By Buck Curran.
---
We Also Recommend
---