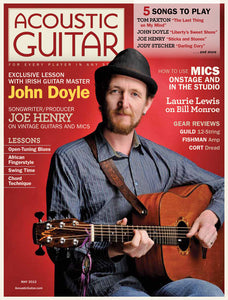 No. 233, May 2012
Microphones for Stage and Studio
How to choose and use a microphone. By Doug Young.

John Doyle Lesson
The Irish guitar wizard on his influential tune-accompaniment style and writing traditional-sounding songs. By Jeffrey Pepper Rodgers.

Joe Henry
The master songwriter and producer on vintage guitars, mics, and the minimalist beauty of his latest album, Reverie. By Derk Richardson.

DEPARTMENTS

ACOUSTIC CLASSIC
Down by the Riverside. Traditional, arranged by Peter Penhallow. Learn to play a classic Ameican spiritual with this simple, three-chord arrangement. By Dan Apczynski.
The Last Thing on My Mind. Words and music by Tom Paxton. By Andrew DuBrock.

GREAT ACOUSTICS
Huss and Dalton Monticello. By Adam Perlmutter.

HERE'S HOW
Free Writing. How to unleash your creativity in the early stages of songwriting. By Jeffrey Pepper Rodgers.

IN THE STORES

NEW GEAR 1
Guild F-1512E Review. Acoustic Guitar checks out Guild's latest jumbo 12-string. By Teja Gerken.

NEW GEAR 2
Cort MR710F Review. Acoustic Guitar reviews a cutaway dreadnought with solid Sitka spruce top and Fishman electronics. By Adam Perlmutter.

NEW GEAR 3
Fishman Loudbox Artist Review. Powerful, portable, and flexible acoustic amp. By Doug Young.

PLAYER SPOTLIGHT
Laurie Lewis. On her latest album, the bluegrass fiddler/guitarist pays tribute to Bill Monroe. By Kenny Berkowitz.

PLAYLIST
Carolina Chocolate Drops, Leaving Eden. By Kenny Berkowitz.
Dar Williams, In the Time of Gods. By Mike Thomas.
Dave Carter and Tracy Grammer, Little Blue Egg. By Celine Keating.
Kevin Kastning, Sandor Szabo, and Balazs Major, Triptych. By Teja Gerken.
Lincoln Durham, The Shovel vs. The Howling Blues. By Michael Lohr.
Luke Roberts, The Iron Gates at Throop and Newport. By Sarah Welsh.
The Pines, Dark So Gold. By Mike Thomas.

PRIVATE LESSON
West African Fingerstyle Guitar Lesson. Walter Strauss on imitating the open string sounds of the Malian kora. By Teja Gerken.

SHOPTALK
J.S. Bogdanovich Guitars Profile. Classical luthier writes the book on how to build a guitar. By Mark Small.

SONGBOOK
Darling Cory. Traditional, arranged by Jody Stecher. Learn to play a haunting old-time classic arranged for the guitar. By Jody Stecher.

THE BASICS
Open Tunings Lesson. Learn to play in open-G and open-D tunings like blues greats Duane Allman, Ry Cooder, Robert Johnson, and others. By Orville Johnson.
WOODSHED
Block and Rolled Chords Lesson. Use these picking-hand techniques for expressive variations in your chord sounds. By Alex De Grassi.
Keeping Swing Time with a Metronome. Learn how to interpret music with a jazzy swing feel and practice jazz rhythms with a metronome. By Sean McGowan.
---
We Also Recommend
---