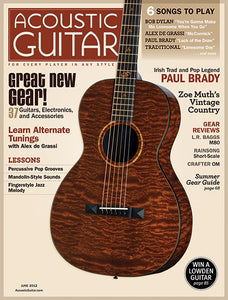 No. 234, June 2012
New Gear 2012
The latest guitars, amplification gear, and accessories. By Teja Gerken.

Alternate Tunings Lesson
Using simple tunings like dropped D and open D or more exotic tunings like C G D G A D and
D A D G C F can alter how we perceive what is possible on the guitar.  By Alex De Grassi.

Paul Brady
The Irish singer-songwriter talks about his background in traditional music, writing songs for
Bonnie Raitt and Tina Turner, and his aggressive open-tuned acoustic guitar style.  By Kenny Berkowitz.

DEPARTMENTS

ACOUSTIC CLASSIC
You're Gonna Make Me Lonesome When You Go. Words and music by Bob Dylan.

GREAT ACOUSTICS
1934 Gibson L-00. By Derek See.

NEW GEAR 1
RainSong Shorty SG Review. Acoustic Guitar reviews the carbon-fiber guitar pioneer's latest model. With video. By Adam Levy.


NEW GEAR 2
Crafter TE 6MH/BR Review. Acoustic Guitar reviews an all-mahogany cutaway acoustic-electric. With video. By Adam Perlmutter.

NEW GEAR 3
L.R. Baggs M80 Review. Acoustic Guitar puts L.R Baggs' lastest soundhole pickup through its paces. with Video. By Doug Young.

PLAYER SPOTLIGHT
Zoe Muth and the Lost High Rollers. By Sarah Welsh.

PLAYLIST
Guy Davis, The Adventures of Fishy Waters: In Bed with the Blues. By Bill Wagner.
Justin Townes Earle, Nothing's Gonna Change the Way You Feel About Me Now. By Mark Smith.
Paco de Lucía, Conciertos: Live in Spain 2010. By Julia Crowe.
Sidi Toure, Koïma. By Sarah Welsh.
Todd Snider, Agnostic Hymns and Stoner Fables. By Mike Thomas.

PRIVATE LESSON
Percussive Pop Grooves Lesson. Pete Heitzman on how he gets a huge-sounding, bass-driven acoustic groove. By Jeffrey Pepper Rodgers.

SHOPTALK
McElroy Guitars Profile. Seattle, Washington, luthier Brent McElroy specializes in lattice-braced flattops. By Doug Young.

SONGBOOK
Arkansas Traveler. Traditional, arranged by Scott Nygaard. By Scott Nygaard.
Lonesome Day. Traditional, arranged by Jody Stecher. By Scott Nygaard.

SPECIAL FEATURE (GEAR)
Acoustic Guitar Summer Gear Guide. Catch this summer's wave of ingenious accessories, amazing instruments, and excellent music from advertisers in Acoustic Guitar magazine.

THE BASICS
Emulating the Mandolin. Approximate the techniques used by mandolinists like tremolo and chop chords. With video and tab. By Andrew DuBrock.

WOODSHED
Fingerstyle Jazz Melody Lesson. Learn techniques for syncopating, articulating, and harmonizing melodic lines within solo-fingerstyle jazz arrangements. With video and tab. By Sean McGowan.
---
We Also Recommend
---