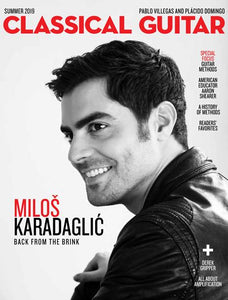 Classical Guitar: No. 394, Summer 2019
On the Cover: The popular Montenegrin guitarist Milos Karadaglic talks in depth for the first time about his long recovery from a devastating hand injury.
Special Focus: Guitar Methods—In-depth profile of the 'Father' of American classical guitar education, Aaron Shearer; a concise history of guitar methods through the centuries; a CG readers' poll reveals favorite methods; methods and other means of learning flamenco.
Features: Pablo Sainz Villegas talks about his wonderful duo album with Plácido Domingo; the saga of Syria's Orontes Quartet and their escape from the war-torn Middle East; "Amplification and Classical Guitar"; interview with eclectic South African guitarist Derek Gripper.
Lessons: Use modern methods to master Carcassi's Etude 23; learn to play Ben Schenstead's lovely, moving Farewell.
Also: John Williams on his Vivaldi, etc.! album; guitar competition winners; reviews of lute albums, plus Xuefei Yang's duet project with violinist Mengla Huang, Raphaella Smits, Fabio Zanon, and more; print music reviews including Manuel Barrueco's Albéniz book, Grieg lyric pieces, Carulli guitar duets, and others; Frederick Sheppard's Barrios bonanza, and more!
---
We Also Recommend
---