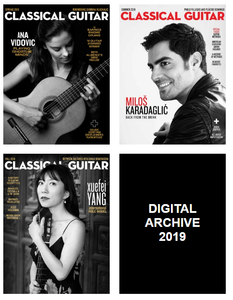 Classical Guitar Digital Archive: 2019
Get a year's worth of Classical Guitar with this digital archive. Each issue covers the full spectrum of people, instruments, and ideas that matter to the classical guitar community.
Read interviews and profiles of artists like Ana Vidovic, Milos Karadaglic, Xuefei Yang, David Starobin, Jason Vieaux, Stephen Goss, Gidi Ifergan, Dusan Bogdanovic, Rupert Boyd, Jane Curry, Gerry Saulter, the Orontes Quartet, Derek Gripper, Carlo Domeniconi, and more.
Conveniently packaged as PDF files, you can save each issue to your computer, tablet, or mobile for reading on or offline.
---
We Also Recommend
---