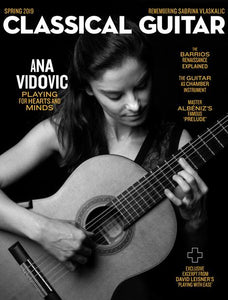 Classical Guitar: No. 393, Spring 2019
On the Cover: An in-depth interview with Ana Vidovic about her guitar education and her successful career.
Special Focus: The Guitar as Chamber Instrument—A History of the Guitar Quintet by leading scholar Dr. Kevin Garry; Special Blends: The Guitar in Combination with Other Instruments (interviews with David Starobin, Jason Vieaux, Stephen Goss, Gidi Ifergan, Dusan Bogdanovic, Rupert Boyd, Jane Curry, and Gerry Saulter); Australian guitarist Matt Withers and the Acacia String Quartet collaborate on their Imaginations album.
Features: Exclusive excerpt from David Leisner's book Playing with Ease: A Healthy Approach to Guitar Technique; two articles about the Agustín Barrios renaissance; the adventurous world of Mak Grgic; remembering Sabrina Vlaskalic and Rico Stover.
Lessons: Master some of the complexities of Albéniz's famous Prelude (Asturias); play Derek Hasted's charming Captivation.
Reviews: Recent albums by Enno Voorhorst, Sean Shibe, Tengyue Zhang, Scott Tennant, and more; sheet music including Segovia's Fandango de la Madrugada, a Bach French Suite; Brahms' Hungarian dances, Spanish Renaissance Music for Guitar, and others; Kazuhito Yamashita plays Castelnuovo-Tedesco's Caprichos de Goya in San Francisco.
---
We Also Recommend
---