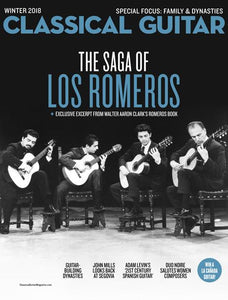 Classical Guitar: No. 392, Winter 2018
On the Cover: The Romeros, still going strong after 60 years and the subject of new book.
Special Focus: Family & Dynasties. Author Walter Aaron Clark talks about his comprehensive biography of The Romeros; an exclusive excerpt from Clark's book, detailing the Romeros' escape from fascist Spain to America; an interview with luthier Pepe Romero Jr.; a look at great guitar-building dynasties; how powerful fathers pushed Ida Presti and Paco de Lucía.
Features: British guitarist and teacher John Mills reflects on his Segovia master class 50 years ago; Adam Levin discusses his Naxos series 21st Century Spanish Guitar; Duo Noire's new album of commissions from contemporary women composers; remembering Canadian guitar patriarch Eli Kassner; a history of flamenco competitions; inside the 6th Guitar Society Summit.
Lessons: Learn right-hand speed and dexterity through Mauro Giuliani's Esercizio No. 5; master Balkan rhythms in a new piece by Tanja Miric.
Reviews: Recent albums by Andrew York, Petri Kumela, Jan Depreter, Apostolos Paraskevas, and more; sheet music from Rameau, Dowland, Stephen Goss, 19th century Spanish composers, and others; John Williams and Berta Rojas in concert in London.
Gear: As extraordinary guitar from American luthier DakeTraphagen.
---
We Also Recommend
---