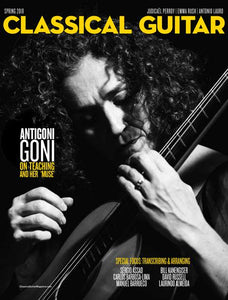 Classical Guitar: No. 389, Spring 2018
On the Cover: Greek guitarist Antigoni Goni talks about her latest album, Hymn to the Muse, her guitar program in Tuscany, and other subjects.
Special Focus: Transcribing and Arranging for classical guitar, and includes provocative thoughts from Sérgio Assad, Manuel Barrueco, David Russell, Carlos Barbosa-Lima, and Bill Kanengiser; and a look at some of the arranging work of Laurindo Almeida.
Features: French guitarist Judicaël Perroy; Canadian guitarist Emma Rush; the passion at the heart of flamenco; an appreciation of François de Fossa; using visualization to improve your performances.
Lessons: Learn about Antonio Lauro's vals venezolanos; master the Irish folk tune "Londonderry Air."
Reviews: Albums from Cinzia Milani, Matthew McAllister, Sor duets, Yuri Liberzon, and more. Sheet music: Carulli duets, Máximo Diego Pujol, Jean-Jacques Fimbel, Vivaldi cello sonatas, and more.
Gear: Ortega's Ben Woods Signature model.
---
We Also Recommend
---