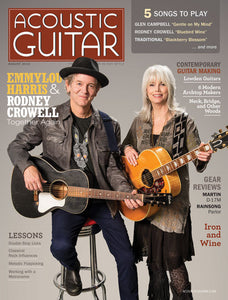 No. 248, August 2013
TOGETHER AGAIN
Nearly 40 years after their first performance together, Emmylou Harris and Rodney Crowell return to the studio for an album of duets. By Kenny Berkowitz.
LOWDEN GUITARS
George Lowden celebrates his 40th year of building innovative guitars with a unique sound. By Walter Carter.
ALL JAZZED UP
Custom archtop guitars from six individual luthiers. By Teja Gerken.
ACOUSTIC CLASSIC
Gentle on My Mind. John Hartford.
PRIVATE LESSON
Melodic Flatpicking: Eli West on using up-the-neck melodies, open strings, and vocal-inspired timing in his duo with mandolinist Cahalen Morrison. By Orville Johnson.
NEW GEAR
Martin D-17M: Martin reintroduces the entry-level style-17 with a mahogany dreadnought that's lively and robust. By Adam Perlmutter.
RainSong P12R Parlor: 12-fret, short-scale, cutaway, all-graphite guitar is well-suited to the parlor and the road. By Jeffrey Pepper Rodgers.
IN THE STORES
PLAYER SPOTLIGHT
Iron and Wine: Sam Beam gets sophisticated on Ghost on Ghost. By Kenny Berkowitz.
THE BASICS
Working with a Metronome: Make the most of your practice time by using this important timekeeping tool. By Josh Workman.
SHOPTALK
Wood Works: All about the woods used for the neck, fingerboard, bridge, and other elements of the guitar besides the top and back and sides. By Richard Johnston.
PLAYLIST
WEEKLY WORKOUT
Double Stops: Add harmonies in thirds, sixths, fourths, and more to scale and arpeggio patterns. By Sean McGowan.
WOODSHED
Classical Influences in Acoustic Rock: Learn how rock bands like Yes, Led Zeppelin, Van Halen, and the Beatles integrated classical arpeggios and contrapuntal sounds into their songs. By Andrew DuBrock.
GREAT ACOUSTICS
1901 M.V. Parlor. By Teja Gerken.
---
We Also Recommend
---