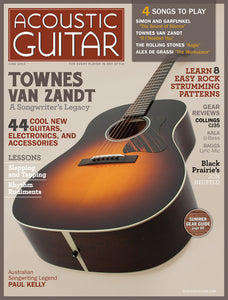 No. 246, June 2013
TOWNES VAN ZANDT
The ultimate Texas troubadour inspired countless tunesmith heirs to dig deeper and write simpler. By Adam Levy.
NEW GEAR 2013
The latest guitars, amplification, and electronics. By Teja Gerken.
ACOUSTIC CLASSIC
"Sound of Silence." By Simon and Garfunkel.
PRIVATE LESSON
Eclectic Americana: Black Prairie's guitarist Jon Neufeld on using his bluegrass, Gypsy jazz, and folk-rock influences to write original tunes. By Orville Johnson.
NEW GEAR
Collings CJ35: Responsive, huge-sounding slope-shoulder dreadnought blends traditional and contemporary features. By Adam Perlmutter.
Kala U-BASS-SMHG: Tiny bass with a ukulele-size body has serious low-end tones. By Greg Olwell.
L.R. Baggs Lyric: Internal guitar microphone delivers highly accurate acoustic tone. By Teja Gerken.
SONGCRAFT
A Change in the Weather: Australian songwriter Paul Kelly crafts a sparse-yet-thrilling song cycle, Spring and Fall. By Mark Smith.
THE BASICS
Rock Strumming Patterns: Eight popular rock rhythms (and variations) used by the Beatles, Coldplay, Buddy Holly, and more. By Andrew DuBrock.
SUMMER GEAR SHOWCASE
SHOPTALK
Gerald Sheppard Guitars: Tennessee luthier draws on his own playing experience to create individualized custom instruments. By Teja Gerken.
WEEKLY WORKOUT
Rhythm Rudiments: Use drum practice patterns to hone your picking technique and create new sounds. By Sean McGowan.
WOODSHED
Slapping and Tapping: How to extend your technique and sound with both hands on the fingerboard. By Alex de Grassi.
SONGBOOK
Angie: Music by Mick Jagger and Keith Richareds of the Rolling Stones.
GREAT ACOUSTICS
1995 Danny Ferrington. By Teja Gerken.
---
We Also Recommend
---