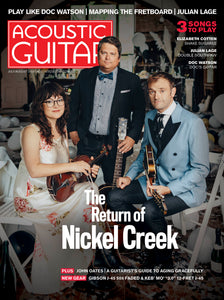 No. 341 July/August 2023
Acoustic Guitar No. 341 — July/August 2023
 Special Focus: Celebrating Doc Watson
Flatpicking ace Alan Barnosky takes a deep dive into the life and playing style of Doc Watson, an astonishing guitarist who practically invented bluegrass flatpicking and redefined the Travis-style approach to fingerpicking. Plus, a transcription of Watson's fingerstyle tour de force "Doc's Guitar" as well as a review of the new Watson tribute album I am a Pilgrim.
In this issue's feature section, we check in with Nickel Creek's Sean Watkins, Sara Watkins, and Chris Thile, who discuss the making of Celebrants, the trio's first new release in nearly a decade; and guitarist-composer-improviser Julian Lage, who reached for his Collings OM1 JL for half of the tracks on his recent Blue Note EP, The Layers. We also hear from John Oates, whose musical journey has taken him from the pinnacle of pop to the roots of American blues, country, rock, and R&B, and talk shop with revered archtop maker John Monteleone. Plus, Mark Small speaks with Benjamin Verdery, Andrew York, Stephen Robinson, and Raphaella Smits—all high-achieving guitarists—about the one thing all guitarists have in common: aging.
In the lessons department, Sean Watkins shares the secrets behind his carefully crafted parts on Celebrants; Cathy Fink offers a beginner's guide to boom-chuck patterns in the key of D, and guitarist Grant Gordy shows how triadic mapping can help you develop a better understanding of the fretboard and help you break out of creative ruts.
Songs to play include the Doc Watson burner "Doc's Guitar"; Elizabeth Cotten's folk staple "Shake Sugaree"; and "Double Southpaw," a study in position shifting composed by Julian Lage.
Also inside are reviews of two new workhorse guitars from Gibson: the J-45 50s Faded and Keb' Mo' "3.0" 12-Fret J-45; an expert's take about what science says about guitar tuners' effect on tone; and more!
---
We Also Recommend
---