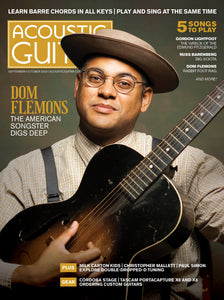 No. 342 September/October 2023
Acoustic Guitar No. 342 — September/October 2023
 Special Focus: Made to Order
 AG editor at large Greg Olwell presents a step-by-step guide to commissioning a custom guitar—and what you can do to help make sure you end up with the instrument of your dreams.
 Also inside you'll find features on Christopher Mallett and Dom Flemons, two brilliant young musicians dedicated to preserving and promoting the works of underrepresented Black players and composers from days gone by. Plus, Guitar Talk with Milk Carton Kids Kenneth Pattengale and Joey Ryan; a visit with Old Style Guitar Shop's Reuben Cox, aka "the rubber bridge guy"; and more.
 In the lessons department, tune down and turn on to double-dropped-d tuning; learn to use barre chords to play any major, minor, or seventh chord in any key; expand your fretboard familiarity by visualizing and connecting chord shapes; and get tips on singing and playing at the same time.
 Songs to play include the epic Gordon Lightfoot story song "The Wreck of the Edmund Fitzgerald"; Dom Flemons' fingerstyle showstopper "Rabbit Foot Rag"; a simple, sing-along version of the classic sea shanty "Drunken Sailor;" and "Big Sciota," a traditional fiddle tune popularized by flatpicking master Russ Barenberg.
 Other highlights include reviews of the gig-ready nylon-string Córdoba Stage and Tascam Portacapture X6 and X8 handheld recorders, expert advice on what to do about crumbling celluloid binding on a vintage guitar, a review of Paul Simon's new album Seven Psalms, and more!
---
We Also Recommend
---