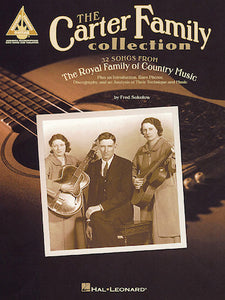 The Carter Family Collection
Perhaps no other famous musical family in U.S. history has has made a more profound and lasting impact on American popular culture than the Carters. Joe Ely once said, "People should know who they are just like they know who the first president of the United States was."
Get to know "The Royal Family of Country Music" with this book, which includes rare photos, family history and chronological discography, plus analysis by author Fred Sokolow of their techniques and music.
This collection includes music notation, tablature, and lyrics for 32 songs:
Amber Tresses
Bury Me Under The Weeping Willow
Can The Circle Be Unbroken (Will The Circle Be Unbroken)
Cannonball (Cannonball Blues)
Coal Miner's Blues
East Virginia Blues
Engine One-Forty-Three
Foggy Mountain Top
Forsaken Love
Gathering Flowers From The Hillside
Hello Stranger
Homestead On The Farm
I Have No One To Love Me
I'm Thinking Tonight Of My Blue Eyes
Jimmie Brown The Newsboy
John Hardy Was A Desperate Little Man
Keep On The Sunny Side
Little Darling Pal Of Mine
Little Joe (Darling Little Joe)
Little Moses
Lonesome For You
Lonesome Valley
Lulu Walls
My Dixie Darling (Dixie Darling)
On The Rock Where Moses Stood
Storms Are On The Ocean
Wabash Cannonball
When The Springtime Comes Again
Wildwood Flower
Winding Stream
Worried Man Blues
You Are My Flower
---
We Also Recommend
---