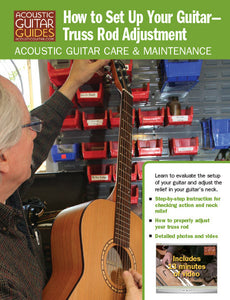 Acoustic Guitar Care & Maintenance: How to Set Up Your Guitar (Part 1): Truss Rod Adjustment
Learn to evaluate the setup of your guitar and adjust the relief in your guitar's neck. Includes:
Step-by-step instructions for checking action and neck relief
How to properly adjust your truss rod
Detailed video and photos
Expert advice about what your guitar's truss rod does and how to properly make adjustments. Includes 13 minutes of video with PDF. (c) 2011.
---
We Also Recommend
---