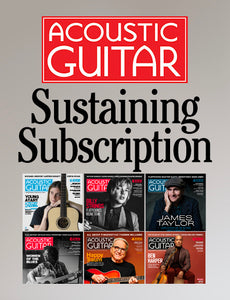 Acoustic Guitar Sustaining Subscription
Thank you for supporting Acoustic Guitar. With all the challenges involved in publishing a magazine these days, we're counting on you, our most committed readers, to thrive. Your investment will make it possible for us to continue offering affordable subscription rates to the majority of our readers and ensures we can continue to produce the high-quality publication you rely on from us.
Here's what your sustaining subscription includes:
The print edition mailed to your door for two years

The digital edition to download on your computer, tablet, or smartphone for two years

Acknowledgment of your contribution in each issue of the magazine

10% discount code emailed to you to use on all your orders in our online store

Option to gift a one-year subscription to the library, school, student, or friend of your choice
Postage and Delivery
The fee for postage and delivery in the United States is $1.00 per issue and will be added to your order as shipping during check out. If your subscription includes magazine delivery to Canada, the fee is $2.00 per issue; for all other international destinations, the fee is $3.00 per issue.
For Current Acoustic Guitar Subscribers
If you have an active subscription, please make sure you enter your name and address exactly as it appears on your magazine label. Doing so will ensure that this purchase will be entered as a renewal and will extend your current subscription by 2 years. (The expiration date of your subscription can be found on the upper right-hand corner of your magazine label.)
We understand that this level of subscription is not possible for everyone. For our standard subscription offer, please click here.
---