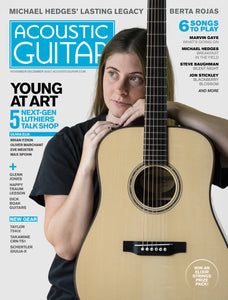 No. 337 November/December 2022
On the Cover: Young at Art 
Five next-generation guitar makers—Olivia Elia, Brian Itzkin, Oliver Marchant, Eve Meister, and Max Spohn—share stories of their personal journeys and their visions of the craft of lutherie. 
Also in this issue, editor at large Jeffrey Pepper Rodgers checks in with guitarists Andy McKee, Kaki King, Christie Lenée, and Mike Dawes to examine the lasting influence of the steel-string guitar force Michael Hedges on the 25th anniversary of his untimely passing. 
In other artist coverage, Berta Rojas discusses her celebration of classical guitar pioneers Ida Presti and María Luisa Anido, and contributor Emile Menasché sits down with American Primitive guitarist and alternate-tuning master Glenn Jones. 
Lessons include tips on building better body awareness; how to add variety to your strumming; a Weekly Workout packed with fun and challenging counterpoint exercises; full-song transcriptions of Michael Hedges' evocative "Breakfast in the Field" and Marvin Gaye's R&B masterpiece "What's Going On"; an open-D bottleneck arrangement of the beloved Christmas carol "Silent Night"; a World Premiere of Adam Levy's solo guitar meditation "Clandestino"; a deep dive on Jon Stickley's take on the evergreen bluegrass standard "Blackberry Blossom"; and more.  
Also featured are reviews of three new offerings for acoustic guitarists: the all-koa Taylor 724ce Grand Auditorium, the stage-ready Takamine CRN-TS1 dreadnought, and the compact Schertler Giulia X acoustic amplifier. 
Plus: reviews of new releases from Jesse Terry, Trey Anastasio, Mary Gauthier, Cristina Vane, Scott Metzger, the Slocan Ramblers, and Lily Henley; a look at three new special instruments from Dick Boak; and much more! 
---
We Also Recommend
---