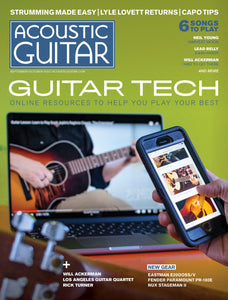 No. 336 September/October 2022
On the Cover: Guitar Tech 
When it comes to learning guitar online, the options can be overwhelming. In this special feature, AG contributor Doug Young does a deep dive into the best websites, apps, and digital tools for acoustic guitar and more.
Also in this issue, editor at large Jeffrey Pepper Rodgers travels to guitarist, producer, and Windham Hill label founder Wil Ackerman's Imaginary Roads studios in Vermont to discuss Ackerman's latest record, Positano Songs, and his prolific career.
In other artist coverage, Lyle Lovett is back with his first album in a decade, 12th of June. Kate Koenig sits down with the Grammy-winning singer-songwriter to discuss the making of the record, his dedication to Collings guitars, and much more. We also check in with the Los Angeles Guitar Quartet, which has inspired legions of guitarists, composers, and fans for four decades now.
This issue's lessons include tips on getting the most out of your capo; a primer on the fundamentals of pick-style strumming; a Weekly Workout packed with fretboard exercises for playing and soloing with augmented arpeggios; a full-song transcription of Neil Young's timeless love song "Harvest Moon"; a campfire arrangement of the cautionary railroad tale "Casey Jones"; a flatpicking tutorial centered on the traditional fiddle tune "Bill Cheatham"; and much more.
Also on tap are a tribute to the late luthier and innovator Rick Turner; an expert take on the guitar soundhole and its effect on acoustic tone; and player-centric reviews of the 00-sized Eastman E20OOSS/v, Fender Paramount PR-180E resonator guitar, and Nux Stageman II AC-80 acoustic combo amp.
Plus, reviews of new releases from Abbie Gardner, Janet Noguera, Peter Rowan, Ryan Lee Crosby, Benji Kaplan, Grant Dermody & Frank Fotusky, and the Nitty Gritty Dirt Band. Pick up your copy now!
---
We Also Recommend
---