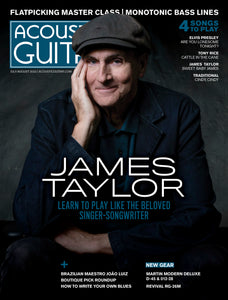 No. 335 July/August 2022
On the Cover: James Taylor
Few singer-songwriters have connected with listeners like James Taylor, and indeed, for many guitarists, Taylor's songs are among the first they learned. In a long-requested lesson feature, AG founding editor Jeffrey Pepper Rodgers examines the core elements of Taylor's self-developed, singular guitar style, with examples drawing from his timeless catalog.
In other features, Bob Minner discusses his Norman and Nancy Blake tribute album, while Mark Small sits down with Brazilian-born classical guitarist and educator João Luiz. Also on tap is an interview with new C.F. Martin & Co. CEO, Thomas Ripsam, the company's first non-family leader.
Flatpicking, which goes far beyond simply playing with a pick, is the focus of this issue's special section. Expert picker Alan Barnosky provides a historical and hands-on guide to this exciting approach, with playing examples from some of its key practitioners—Doc Watson and Clarence White, Norman Blake, Molly Tuttle, and Billy Strings to name a few. Staying with the flatpicking theme, Adam Perlmutter checks out a selection of boutique picks from Apollo, Charmed Life, Honey, and Wegenpicks.
Lessons include Cameron Knowler's Woodshed on techniques for adding depth and excitement to traditional songs; Mary Flower on the basics of monotonic/dead thumb bass; and Pete Madsen's Make Your Own Blues, which shows how to put your own stamp on the blues by borrowing ideas from the greats.
Among the songs to play are James Taylor's classic lullaby "Sweet Baby James"; a strum-along version of "Are You Lonesome Tonight? (a song made popular by Elvis Presley); a satisfying solo arrangement of the traditional American song "Cindy, Cindy"; and a flatpicking gem as interpreted by Tony Rice, "Cattle in the Cane."
On the gear side, James Volpe Rotondi checks out the gorgeous new Martin Modern Deluxe D-45 and 012-28, and Greg Olwell test drives the compact and versatile Revival RG-26M.
Album reviews include fantastic new releases from Joan Shelley, Molly Tuttle & Golden Highway, Charlie Musselwhite, Jamestown Revival, David Jameson, and Taj Mahal & Ry Cooder.
And much more!
---
We Also Recommend
---