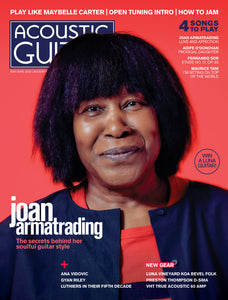 No. 334 May/June 2022
On the Cover: Joan Armatrading 
From her 1970s breakthrough ballad "Love and Affection" to '80s pop anthems like "Drop the Pilot" and "Me Myself I," and onward through her latest release, Consequences, Joan Armatrading has followed her own path for 50 years. Along the way she's become one of the most revered songwriters of her generation. Here, Jeffrey Pepper Rodgers takes a look inside her unique acoustic style.
In another guitar story spanning five decades, we catch up with luthiers Bob Taylor (of Taylor Guitars), Dana Bourgeois (of Bourgeois Guitars), and Richard Hoover (of the Santa Cruz Guitar Company) for a roundtable discussion on 50 years of guitar making. Additional features on classical guitarist Ana Vidovic and nylon-string innovator Gyan Riley round out this issue's artist coverage.
Lessons include tips on how to play well with other in a jam-session environment; an introduction to open D minor blues by Mary Flower; a Weekly Workout showing how to up your flatpicking game via Maybelle Carter tunes; a strum-along arrangement of the Roaring '20s favorite "I'm Sitting on Top of the World"; a full-song transcription of Joan Armatrading's "Love and Affection"; a world premiere from Aoife O'Donovan; and more.
Also on tap are gear reviews of the stunning Preston Thompson D-SMA dreadnought, the affordable but versatile Luna Vineyard Koa Bevel Folk, and the new True Acoustic 60 amp from VH.
Plus, reviews of new releases from Eliza Gilkyson, Trevor Gordon Hall, Carlos Barbosa-Lima and Johannes Tonio Kreusch, Woody Harris, and Son House; a coffee table book on Woody Guthrie; and much more!
---
We Also Recommend
---