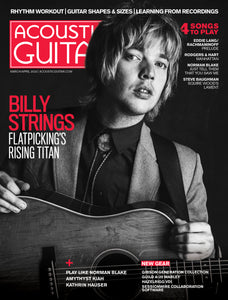 No. 333 March/April 2022
On the Cover: Billy Strings 
He may be best known for being a leading light on the current bluegrass scene, but the rollicking musical river that is Billy Strings runs much wider and deeper than that. In a sit-down with AG contributor E.E. Bradman, Strings discusses walking the line between old-school and modern, finding his own musical voice within the bluegrass tradition, and how he got his dad's prized Martin D-93 back in the family.
Continuing the theme of traditional and new, we profile Tennesseean singer-songwriter Amythyst Kiah, whose collegiate studies of old-time music inform her present-day musical explorations, while flatpicking expert Alan Barnosky offers an in-depth study of the guitar style of Norman Blake, one of the great undersung heroes of 20th-century folk music.
In a fascinating gear feature, AG editor at large Greg Olwell offers "The Body Acoustic," a player's field guide to the wide range of steel-string guitar shapes and sizes developed by makers such as Martin, Gibson, Lowden, and others over the years.
This issue's lessons include 12 tips for learning songs from recordings; a fundamental fingerpicking exercise from Mary Flower; how to approximate the beautiful sounds of Celtic harp on fingerstyle guitar; a Weekly Workout on playing rock-solid rhythm guitar; a full-song transcription of Norman Blake's "Just Tell Them That You Saw Me"; a campfire arrangement of the Rodgers and Hart standard "Manhattan"; and more.
Also on tap are gear reviews of the Player Port-equipped Gibson Generation Collection G-45 and G-200 EC acoustics and the Guild A-20 Marley, a dreadnought fashioned after the reggae legend's songwriting companion. Studio wiz Doug young also test drives two new options for recordists: the vacuum tube-based Hazelrigg VDI and Sessionwire online collaboration software.
Plus, reviews of guitar-infused releases from Bola Sete, Jamie Stillway and Eric Skye, Aoife O'Donovan, Emmylou Harris & the Nash Ramblers, Bruce Molsky, Nathan Salsburg; and much more. Pick up your copy now!
---
We Also Recommend
---