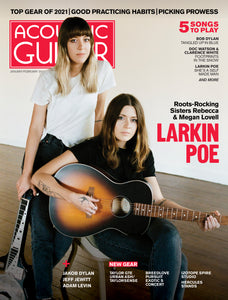 No. 332 January/February 2022
On the Cover: Larkin Poe
AG kicks off 2022 with an in-depth interview with sisters Megan and Rebecca Lovell of the acclaimed duo Larkin Poe, who discuss how they've stayed true to their bluegrass roots while recreating their sound and tapping into their love of classic rock and blues. 
We also welcome the new year by taking a look back at 2021: The Year in Gear with our annual recap of new instruments, accessories, and trends in the acoustic guitar world. From under $10 to more than $10k, 2021 saw the release of tons of cool new products for guitarists of all stripes.  
From the tools of the trade to the artists who use them and the makers who create them, this issue also explores Jakob Dylan's cinematic approach to songwriting, classical guitarist and musicologist Adam Levin's work spotlighting Spanish composers, the fascinating career path of chemist/luthier/finishing specialist Jeff Jewitt, and other industry movers and shakers. 
This issue's lessons include steps you can take to make practice more enjoyable; an introduction to Welsh guitar vis-à-vis the traditional number "Men of Harlech"; how to play hot flatpicking solos à la Doc Watson and Clarence White's take on "Footprints in the Snow"; a Weekly Workout on economy picking by jazz guitarist Ron Jackson; Chord-melody survival tips; a full-song transcription of Larkin Poe's "She's a Self Made Man"; a campfire arrangement of the classic song "Beautiful Dreamer"; and more. 
Also featured are gear reviews of two new sustainable acoustic-electrics: the Taylor Urban Ash GTe (and TaylorSense app) and Breedlove Pursuit Exotic S Concert CE, as well as the iZotope Spire Studio 2 recording interface and practical new mic and smartphone/tablet stands from Hercules Stands. Plus, get a first look at a new Smithsonian collection of rare Northern California folk performances by Doc Watson, Fred McDowell, Rev. Gary Davis, the New Lost City Ramblers, Kilby Snow, and others; reviews of new releases from Paul Thorn, Sarah McQuaid, Buffalo Nichols, George Harrison; and much more! 
---
We Also Recommend
---