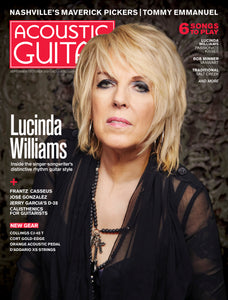 No. 330 September/October 2021
Acoustic Guitar #330 – September/October 2021  
Our cover story features the Grammy Award-winning, singer-songwriter Lucinda Williams and offers an in-depth lesson on her approach to the acoustic guitar. And while we're talking about Americana roots, you can also read more about the acoustic guitar scene in Nashville in our special section on the Music City—from the pickers and singer-songwriters to the guitar dealers and historians. The issue wouldn't be complete without hearing from a few other guitarists: Enjoy Guitar Talk with Tommy Emmanuel and a profile on José González, a Swedish singer-songwriter who employs some serious nylon-string stylings.
Lessons feature a bevy of songs to play on guitar: "What'll I Do" – Campfire arrangement of the Irving Berlin classic; Lucinda Williams' hit "Passionate Kisses"; "VanWart" – A new DADGAD instrumental by flatpicking great Bob Minner; "Salt Creek," a go-to traditional bluegrass standard, and Marc Ribot's solo guitar interpretation of "Dance of the Hounsies" by the "father of Haitian classical guitar."  
Also in this issue: guitar exercises for building hand independence and dexterity; tips for shopping for guitars online, and reviews of new album releases by Sunny War, Eli West, Bob Minner, Boubabcar "Badian" Diabaté, and more.
Don't miss out on our gear reviews of Collings' CJ-45 T guitar; Cort's Gold-Edge acoustic guitar; Orange's Acoustic pedal, and new D'Addario XT strings.
---
We Also Recommend
---