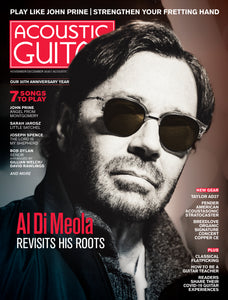 No. 325 November/December 2020
Acoustic Guitar #325 – November/December 2020
On the Cover: Al Di Meola opens up about his new album of Beatles tunes, uncovering more of the magic he made with John McLaughlin and Paco de Lucía, his love of rhythm, and more.
 Special Focus: Acoustic Guitar in the Time of COVID-19
Readers weigh in on their musical experiences during the global pandemic.
Features, Lessons & Departments
Guitar Talk: Kenya-born folk sensation Ondara
Sharon Isbin: The classical-guitar great talks about her new albums of Indian music and contemporary composers
Anaïs Mitchell: The guitarist taps into tradition in her hit Broadway musical and new band
John Prine: A close-up look at the late, great singer-songwriter's acoustic approach
Pickin': Flatpicking a study by classical guitarist and composer Matteo Carcassi
Weekly Workout: An introduction to playing swing leads 
Here's How: Building a teaching studio
Makers & Shakers: A profile of archtop maker Sherwood "Woody" Phifer
Mixed Media: Reviews of albums by Sarah Jarosz, Neil Young, Rory Block, and more
 Songs
"Angel from Montgomery" –A John Prine masterpiece
"Señor" – A new arrangement of the Bob Dylan classic by Gillian Welch and Dave Rawlings
"Deck the Halls" – A campfire arrangement of this holiday favorite
"Little Satchel" – Sarah Jarosz and John Leventhal's beautiful treatment of a traditional number  
"Dans Kef" – A Celtic-themed fingerstyle arrangement in a unique tuning
"The Lord Is My Shepherd" – An instrumental gospel piece by Bahamian guitarist and singer Joseph Spence
 Gear Reviews
Breedlove Organic Signature Concert Copper CE      
Fender Acoustasonic Stratocaster
Taylor American Dream AD27
JBL IRX Series portable powered PA
Radial HDI direct box
 And more!
---
We Also Recommend
---