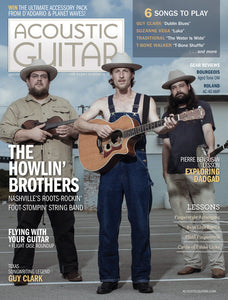 No. 253, January 2014
TUNING INTO THE CREATIVE SPIRIT
Fingerstyle guitarist Pierre Bensusan celebrates 40 years as a professional with a career-spanning live recording and signature-model Lowden. By Doug Young.
PORTRAIT OF AN ARTIST
Guy Clark reflects on his latest album, My Favorite Picture of You, and his path into songwriting. By Derk Richardson.
FLYING WITH A GUITAR
A road warrior's guide to getting your guitar to your destination safe and sound. By Alex de Grassi.
TAKE FLIGHT
If you're going to check your guitar next time you fly, you'll need one of these cases. By Teja Gerken.
ACOUSTIC CLASSIC
Luka: Words and music by Suzanne Vega. 
PRIVATE LESSON
Fluid Fingerstyle: Ken Bonfield on playing smooth fingerstyle patterns and using lush chords on traditional folk songs. By Teja Gerken.
NEW GEAR
Bourgeois Aged Tone OM: Vintage-inspired OM with new top-aging technique delivers great looks and rich tone. By Teja Gerken.
Roland AC-40: Clean-sounding, easy-to-use, lightweight amp with classic Roland reverb. By Teja Gerken. 
IN THE STORES
PLAYER SPOTLIGHT
The Howlin' Brothers: Ian Craft and Jared Green talk about recording, old-time songwriting, and working with Brendan Benson. By Kenny Berkowitz.
THE BASICS
Think Bass: How to improve your rhythm parts by using bass lines with chords. By Jeffrey Pepper Rodgers.
SHOPTALK
Jim Worland Guitars: Illinois luthier Jim Worland offers everything from affordable stock models to extravagant custom creations. By Teja Gerken
HOLIDAY GIFT GUIDE
PLAYLIST
WEEKLY WORKOUT
Full Circle: Learn how to navigate the modulations in circle-of-fifths progressions. By Scott Nygaard. 
WOODSHED
Building Fingerstyle Jazz Arrangments: Pick the right key, style, and time signature to create a unique setting for your melody. By Sean McGowan.
GREAT ACOUSTICS
Circa 1916 Charlie N. Anglemire. By Teja Gerken.
---
We Also Recommend
---