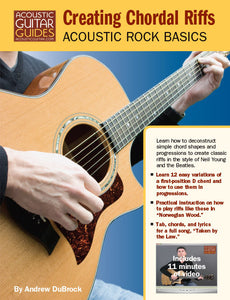 Acoustic Rock Basics: Creating Chordal Riffs
Learn to deconstruct simple chord shapes and progressions to create classic-sounding riffs with this lesson in the Acoustic Rock Basics series from Acoustic Guitar!
This lesson gives you new tools to play interesting accompaniment in your songs. By learning how to look at easy chords and chord progressions as groups of smaller patterns, you'll create riffs in the style of Neil Young and the Beatles, and learn to add them to your own repertoire. Includes:
11 minutes of video instruction
Practical instruction on how to play riffs like those in "Norwegian Wood"
Tab, chords, and lyrics for a full song, "Taken by the Law"
By Andrew DuBrock
---
We Also Recommend
---