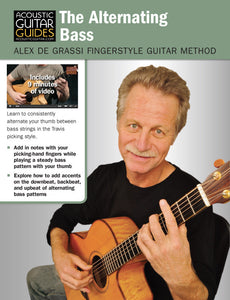 Alex de Grassi Fingerstyle Guitar Method: The Alternating Bass
This video guides teaches you how to be consistent in alternating your thumb between bass strings in the Travis picking style.
Learn how to add in notes with your picking-hand fingers while playing a steady bass pattern with your thumb.
Explore how to add accents on the downbeat, backbeat, and upbeat of alternating bass patterns.

Includes 9 minutes of video instruction.

By Alex de Grassi.

---
We Also Recommend
---