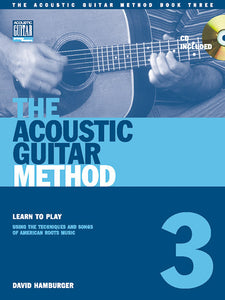 The Acoustic Guitar Method: Book 3
The Acoustic Guitar Method is the only beginning guitar method based on traditional American music that teaches you authentic techniques and songs. From the folk, blues, and old-time music of yesterday have come the rock, country, and jazz of today. Now you can begin understanding, playing, and enjoying these essential traditions and styles on the instrument that truly represents American music, the acoustic guitar.
Whether you are studying with a teacher or on your own, let the Acoustic Guitar Method be your guide to the joys and pleasures of playing guitar. This comprehensive approach, with graded lessons and supplementary songs, is the one tool you need to get started.
This comprehensive guide is available in two different formats:
Book & Audio Download package: 45 pages with written instruction, notation and tab, plus accompanying audio instruction, performed by David Hamburger, available to

 

download.
PDF & Audio Download package: Downloadable version featuring the complete written instruction (including standard notation and tablature) from the book, plus accompanying audio instruction, performed by David Hamburger.
Includes:
The Swing Feel
Tackling the F Chord
More Chord Moves
Introducing Travis Picking
Travis Picking, Continued
Hammer-ons
Slides and Pull-offs
Alternate Bass Notes
The Pinch
All Together Now
SONGS 
Frankie and Johnny
Delia
Gambler's Blues
Banks of the Ohio
Crawdad
New River Train
Sail Away Ladies
Little Sadie
Omie Wise
That'll Never Happen No More
"An excellent method! Engaging musical examples combined with uncommon sense exercises (written from the perspective of the beginner's mind) provide for and encourage a painless learning experience. The acoustic guitar has a new diplomatic handbook in David Hamburger's text!"
—Michael Millham, Adjunct Instructor of Guitar, Gonzaga University, Spokane, WA
---
We Also Recommend
---