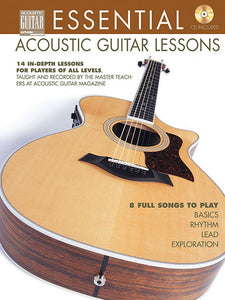 Essential Acoustic Guitar Lessons
A superb selection of lessons and songs for the acoustic guitar, expertly played by the editors of Acoustic Guitar magazine! This Book & CD package contains exercises, licks, and 8 full songs to play, in standard notation and tablature with chord diagrams. Players of all levels will find lessons to benefit them. Includes:
BASICS
Unlocking the Fretboard. By Karen Hogg.
Barre Chords. By David Hamburger.
Flatpicking 101. By David Hamburger.
RHYTHM
Bluegrass in Dropped D. By Happy Traum.
Bass Lines for Guitarists. By Paul Kotapish.
Classic Pop Changes. By Andrew DuBrock.
Swing Voice Leading. By Tony Marcus.
LEAD
Celtic Jigs. By David Surette.
Melodic Improvisation. By Chris Grampp.
Soloing with Arpeggios. By Jamie Findlay.
EXPLORATION
Getting Low Lows with a Partial Capo. By Peter Mulvey.
Hawaiian Slack Key. By Keola Beamer.
Classical Etude Variations. By Mark Small.
Modal Harmony. By Scott Nygaard.
Songs include:
Blackberry Blossom
Angel Band
Levis Beaulieu
Coleraine/Manferrine
A Grandmother's Wish
Wa'apa
Prelude
Winter Waltz
The CD includes two versions of each song: one played slowly and the other up to tempo. 
---
We Also Recommend
---