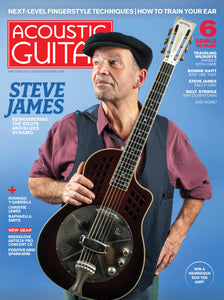 No. 340 May/June 2023
Acoustic Guitar No. 340 — May/June 2023
Special Focus: Remembering Steve James
Legendary roots-and-blues raconteur Steve James passed away in January 2023. In a special tribute, friends, fellow musicians, and luthiers weigh in on his life and legacy. Plus, learn James' song "Talco Girl" and get a close-up look at his custom Collings C10. 
In artist coverage, the international acoustic duo Rodrigo y Gabriela talk about their inspirations and musical evolution; sonic adventurer Christie Lenée discusses her latest project; classical guitar virtuoso Raphaella Smits shares the stories behind her wide-ranging career and her latest release, Che Argentina. In the Makers & Shakers department, E.E. Bradman visits with Elderly Instruments heir apparent, Lillian Werbin.
Lessons include a beginner's guide to boom-chuck variations in the bluegrass-friendly key of G with Cathy Fink; an introduction to ear training and how it can improve your musicianship; a Woodshed on using advanced techniques to add excitement to your fingerstyle playing; a Weekly Workout on using cluster chords; and more.
Songs to play include the Traveling Wilburys classic "Handle With Care"; Bonnie Raitt's Grammy winning "Just Like That"; a breakdown of Billy Strings' "Way Downtown" solos; "Talco Girl" by Steve James; an easy flatpicking arrangement of "Little Liza Jane"; and a campfire version of the cautionary shipboard tale "Drunken Sailor."
Also inside are reviews of the Breedlove Artista Pro Series Concert CE acoustic-electric and Positive Grid Spark Mini amplifier; an expert's take on how often you should change your strings; a review of Over the Waterfall, the latest release from fingerstyle duo Jamie Stillway and Eric Skye; and more.
---
We Also Recommend
---