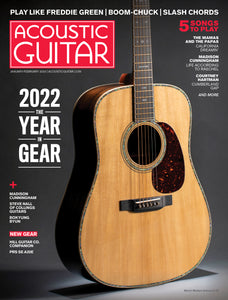 No. 338 January/February 2023
Special Focus: 2022—The Year in Gear
Despite uncertain times, acoustic makers unveiled guitars, guitars, and more guitars over the course of 2022. We survey the acoustic gear trends of the past year and take a look ahead to 2023. 
Also inside are interviews with singer-songwriter-guitarist Madison Cunningham, who discusses how she discovers fresh sounds in unusual tunings and beater instruments, and South Korea-born Bokung Byun, whose recent rise in the classical guitar world has been nothing short of remarkable. In the Makers & Shakers department, editor Adam Perlmutter sits down with Steve Nall, Collings Guitars' new "wood whisperer," who talks about his long career and new role at the storied company. 
Lessons include the third in a series on strumming fundamentals with Cathy Fink; tips on arranging the music of "Father of the Blues" W.C. Handy for solo guitar; a deep dive on adding variety to your playing using slash chords; new ways to warm up; a primer on walking bass lines; and more. In a special lesson-feature, guitarist/historian Nick Rossi examines the career and playing of the legendary Freddie Green, who Rossi suggests is jazz's most important rhythm guitarist. 
You can apply what you've learned from those lessons to this issue's songs to play, which include the Mamas and the Papas' classic "California Dreamin'"; a world premiere of Madison Cunningham's ode to her late grandmother, "Life According to Raechel"; Courtney Hartman's solo flatpicking take on the traditional song "Cumberland Gap"; and two Scottish folk mainstays: "Fortune Turns the Wheel" and "My Bonnie Lies Over the Ocean." 
Also on tap are reviews of the PRS SE A20E, a cutaway acoustic-electric that boasts versatility and affordability, and the Hill Guitar Co. Companion, a compact crossover nylon-string offering from the esteemed classical luthier; a review of Joe Robinson's stylistically diverse new release, The Prize; the story behind novelist Joseph Skibell's Big Hollow Jumbo; and more!
---
We Also Recommend
---