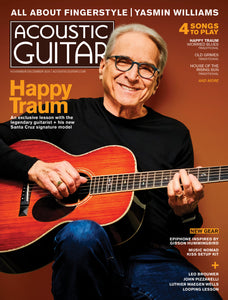 No. 331 November/December 2021
Acoustic Guitar #331 – November/December 2021   
This issue's cover feature is an intimate conversation and lesson with roots guitarist and educator Happy Traum, who, in the footsteps of Pete Seeger, has made it his lifelong mission to share his love of music with others. The 83-years-young guitar ambassador teaches a few of his songs, including a full transcription of "Worried Blues," and reflects on taking lessons with the great blues guitarist Brownie McGhee, the buzzing folk scene in Greenwich Village in the 1950s and '60s, jamming with Bob Dylan, and much more. And in the gear section, jazz guitarist Sean McGowan test drives the new Happy Traum HT/13 Signature Model from the Santa Cruz Guitar Co.
Fingerstyle guitar is another of this issue's main themes: Doug Young gets into the history, players, how-tos, and gear of this essential technique; John W. Warren shares strategies for fingerstyle improvisation; and the exciting young player Yasmin Williams discusses her unique, self-taught approach to the method.  
For those wanting to expand their sonic horizons, we've included an acoustic guitarist's guide to using loopers and looping pedals by Japanese guitarist-composer (and looping expert) Hiroya Tsukamoto. If you've ever been curious about using these electronic devices to add depth and layers to your music, you won't want to miss this piece. 
We round out the issue with even more artist, gear, and lesson content: Cuban guitarist-composer Leo Brouwer; shop talk with archtop luthier Maegen Wells; new releases from John Pizzarelli, Steve Gibb, Matthew Stephens, Charlie Parr, Joseph Spence, and John Hiatt with the Jerry Douglas Band; reviews of the new  Epiphone Inspired by Gibson Hummingbird acoustic and MusicNomad's KISS (Keep It Simple, Setup) System; a flatpicking take on the traditional fiddle tune "Old Grimes"; a campfire arrangement of "House of the Rising Sun"; a lesson on chord-melody basics; and much more! 
---
We Also Recommend
---