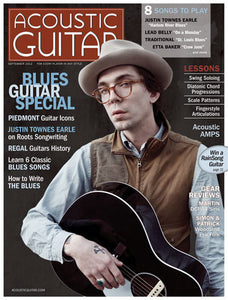 No. 237, September 2012
Regal Flattops
The history and instruments of the Regal Guitar Company. By Bob Carlin.

Piedmont Guitar Lesson
The players and techniques of this roots/blues fingerpicking guitar style. By Steve James.

Justin Townes Earle
The songwriter discusses his idiosyncratic fingerpicking style, his new Loar L0-16, and battling personal demons. By Kenny Berkowitz.

DEPARTMENTS

GREAT ACOUSTICS
1970s LoPrinzi LR-15. By Orville Johnson.

NEW GEAR 1
Martin DCPA4 Siris Review. Acoustic Guitar reviews Martin's new cutaway-dreadnought with exotic woods and clever electronics. With video. By Teja Gerken.

NEW GEAR 2
Simon and Patrick Woodland Pro Folk Review. Acoustic Guitar reviews an affordable vintage-inspired small-body flattop. With video. By Adam Perlmutter.

PLAYER SPOTLIGHT
Hobart Brothers and Lil' Sis Hobart. Freedy Johnston, Susan Cowsill, and Jon Dee Graham put aside their solo careers for a rare group project. By Shay Quillen.

PLAYLIST
Chris Smither, Hundred Dollar Valentine. By Phil Catalfo.
Davy Graham, Anthology. By Teja Gerken.
Glen Hansard, Rhythm and Repose. By Jeffrey Pepper Rodgers.
Marley's Ghost, Jubilee. By Kenny Berkowitz.
Peter Mulvey, The Good Stuff. By Céline Keating.
Sara Watkins, Sun Midnight Sun. By Mike Thomas.
Shawn Colvin, All Fall Down. By Mike Thomas.
The Boxcars, All In. By Kenny Berkowitz.

SHOPTALK
All About Acoustic Amps. How to choose the right amp for your guitar and performance setting. By Doug Young.

SONG CRAFT
Writing the Blues. The 12-bar blues is the most common form, but there are many other progressions you can use to write your blues away. By Adam Levy.

8 SONGS TO PLAY
Saint Louis Blues - W.C. Handy, arranged by Orville Johnson
Harlem River Blues - Justin Townes Earle
On a Monday - Lead Belly (Huddie Ledbetter)
Ninety-Nine Year Blues - Julius Daniels
Never Let Your Deal Go Down - Traditional, arranged by Etta Baker
Crow Jane - Traditional, arranged by Etta Baker
Who's Going Home with You - Henry Johnson
Rice Noodles - Jane Miller

THE BASICS
Diatonic Chord Progressions Lesson. Learn how to find and use the standard chords in major- and minor-key pop and rock progressions. By Andrew DuBrock.

WOODSHED
Articulating a Melody Lesson. Learn how to embellish a musical phrase with hammer-ons, pull-offs, and slides. By Alex De Grassi.
Finding Solo Ideas Within Scales. Explore patterns within familiar scale fingerings for melodic and interesting solos. With video and tab. By Jane Miller.

ACOUSTIC CLASSIC
On a Monday. Words and music by Huddie Ledbetter. By Andrew DuBrock.

PRIVATE LESSON
Swing Guitar Soloing Lesson. Marcy Marxer on learning to improvise out of chord positions and embellishing melodies. By Scott Nygaard.
---
We Also Recommend
---