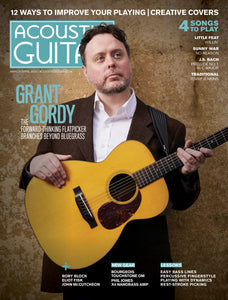 No. 339 March/April 2023
 Acoustic Guitar No. 339 — March/April 2023
 Special Focus: The Learning Zone
Ten master guitarists share strategies for breaking out of your comfort zone and discovering new territory on the guitar. Take your playing to the next level!
 Also, cover artist, improviser, and flatpicker extraordinaire Grant Gordy discusses how his playing has evolved over the course of his diverse musical journey. Other artist coverage includes a conversation with the prolific singer-songwriter-multi-instrumentalist John McCutcheon, who after recording more than 40 albums, is as love with his instruments as ever; and the classical guitar energy force that is Eliot Fisk looks back on his six-decade career with an eye to the future. In the Makers & Shakers department, Kate Koenig talks shop with William Eaton, director of the Roberto-Venn School of Luthiery.
 This issue's lessons include a primer on adding excitement to your strumming patterns with Cathy Fink; a songwriter's guide to making cover songs your own; a Woodshed on using percussive techniques to add groove to your accompaniments and instrumentals; how to use timbre, dynamics, and time-feel to breathe life into your playing; a Weekly Workout on how to improve your guitar sound using rest stroke technique; and more.
 Songs to play include the classic Little Feat trucking anthem "Willin'"; a world premiere of Sunny War's West African-flavored  "No Reason"; a flatpicking guitar study of J.S. Bach's "Prelude No. 1 in C Major"; plus guitarist-songwriter Maurice Tani teaches a strum-along campfire version of the colorful dance tune "Jenny Jenkins."
 Also inside are reviews of the Bourgeois Touchstone OM Vintage/TS—a well-executed instrument co-produced by Bourgeois and Eastman Guitars—and the tiny but powerful Phil Jones Bass X4 Nanobass combo amp, which proves that good things can come in small packages. Plus, we spin Rory Block's latest "Power Women of the Blues" release, Ain't Nobody Worried, and get the story behind Linda Manzer's Sunflower Guitar for Ukraine.
---
We Also Recommend
---